Updates from Christ the Savior Facebook Page
Welcome to Christ the Savior Orthod
ox Church!
American Carpatho-Russian Orthodox Diocese of North America and Canada
Ecumenical Patriarchate of Constantinople

If you are an Orthodox Christian, We are glad to welcome you to Christ the Savior Parish. If you are not Orthodox, we invite you to come and experience the special blessings of Orthodoxy with us.
All our worship services are in English!

Our parish has roots in Eastern Europe, but our worship, life, and ministry are in English. Therefore, we reach out to and include people in America from all backgrounds. No matter what your religious history, you will find that the Christ the Savior parish offers timeless Christianity for today! Our proclamation of the Gospel of salvation, our worship of the Holy Trinity, and our teaching of the way of Jesus Christ go all the way back to the Apostles. Yet they speak to the deepest needs and concerns of modern people like yourself.

Many Americans are attracted to the Orthodox way because it brings to them a deep spirituality, a personal relationship with the Lord Jesus Christ, a close fellowship with other Christians, and the guidance and power of the Holy Spirit. Moreover, Orthodoxy provides a firm foundation for one's life.

We realize that Orthodoxy may be familiar to some people but strange to many more in America. We are glad to answer your questions and to address your concerns. We hope that you will contact us and, most important, visit us soon! God bless you!
WEEKLY SERVICES

Divine Liturgy 10AM Sunday
Vespers / Inquirer's Class* 6PM Wednesdays*
Vespers* 6PM Saturdays*
*Always Check the Online Calendar (see tab) for cancellations,
special services and adult education.

INFO ON PARISH REMODEL PROJECT
New Iconography, New Floors, A New Marble Altar with stone from the Holy Land to be consecrated Sunday October 15th on our parish's 60th Anniversary

ICONOGRAPHY PROJECT 2016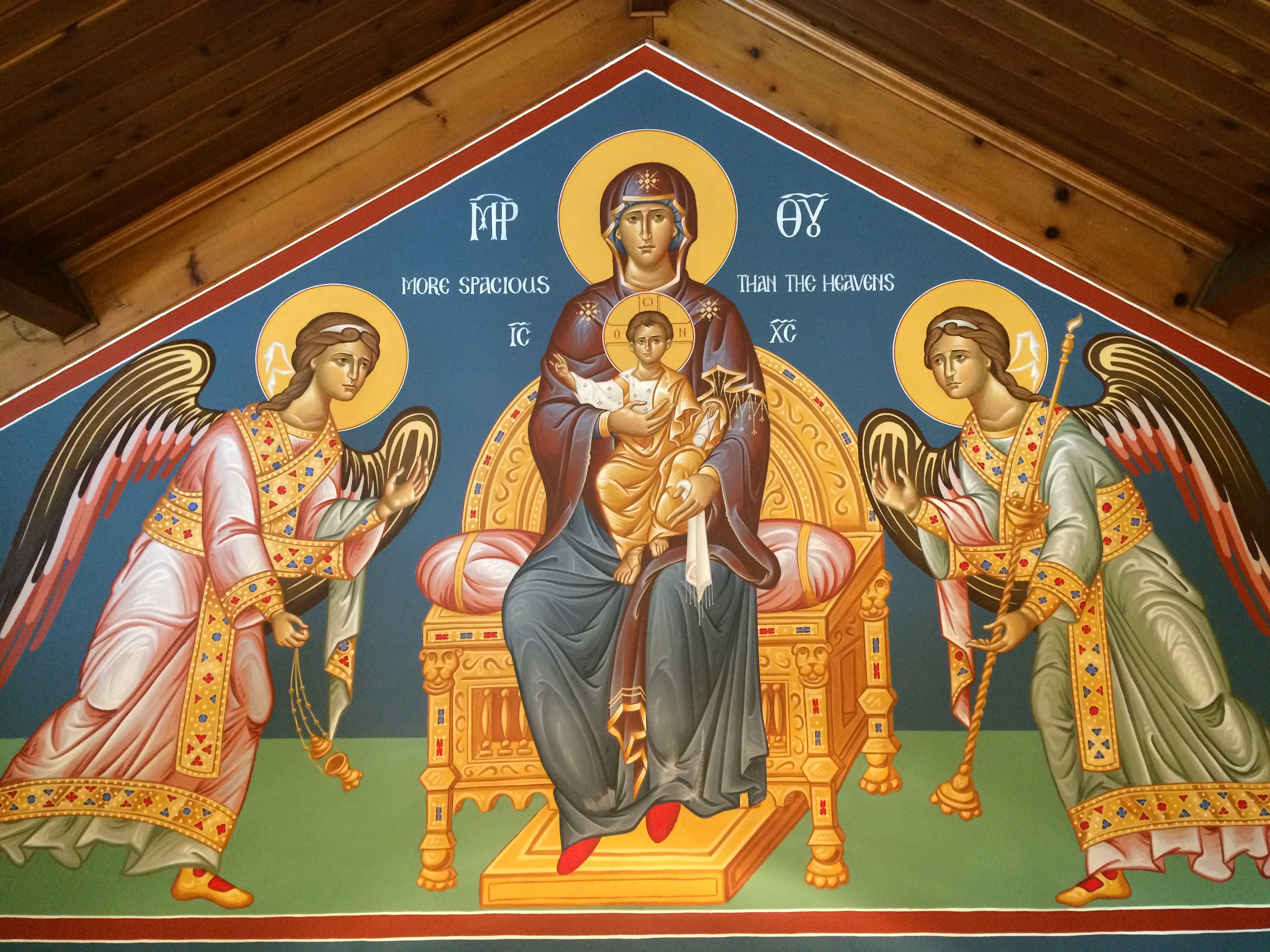 Our parish is overjoyed to welcome back iconographer Brian Matthew Whirledge this summer as we prepare to have the Communion of the Apostles / Mystical Supper on the back wall of the altar area. It has been a goal of Fr. Jonathan's to bring more opportunities to experience God here in the home parish. The icons have so much to offer and reflect the love the communion is already sharing so beautifully. May God continue to bless this parish of 60 years!
Responses from members when the new icons in 2016 were installed:
"Felt like I walked into Heaven" - Founding Member
"I feel like I have died and gone to Heaven" - Founding Member
"Its fantastic, I thought the blue was going to be too dark.... It's not." - Founding Member
"It pulls all of the icons together and the roof... I want to hear about the ALL of the details and stories behind how this icon came to be..." - Younger Member
"I have goosebumps on my goosebumps..." - Founding Member